As countries across the globe continue to deal with the COVID-19 health crisis, many businesses are finding the need to reschedule or put their multilingual meetings on hold. These delays can often have a direct effect on revenue and a company's bottom line.
Interpret Group has developed a reliable solution to allow your multilingual meeting to happen remotely, without delay.
How Remote Interpreting for Multilingual Meetings Works
Connect from Anywhere
All participants including host, guests and interpreter(s) sign on to our web-based video conferencing platform from their preferred location, whether it's a personal computer or smart device. We also have solutions in place that allow for your multilingual meeting to happen on your existing conferencing platform, if desired.
Interpreting Provided
Our interpreter(s) will be on the call from start to finish, providing seamless e-interpreting to support all your meeting's language needs.
Technical Advice & Support
To ensure the best possible experience, our remote meeting services include pre-event technical consultation and rehearsal, as well as monitoring and troubleshooting during the event, if required.
Additional Services Available
Depending on your meeting requirements, we can provide additional services such as audio or video recording, transcription, live polls, and more. Also see our remote solutions for event conferencing.
Benefits of Using Interpret Group for Multilingual Meetings
For more than 20 years, Interpret Group has provided on-demand skilled interpreters, anywhere in the world, where you may need them – as a cost-effective tool designed to facilitate international business. Here's why Interpret Group stands out.
You will be assigned a dedicated international project manager to take care of every detail from start to finish.
We'll take care of all the logistics and determine the technical and equipment requirements for your event – (onsite, remote or a combination of both).
Our team offers concierge-level technical support, including coordination and set-up, a test call prior to the event, troubleshooting and coordination between all parties.
Our professional interpreters are trained in the use of remote interpreting platforms and are highly experienced to ensure a smooth meeting.
Document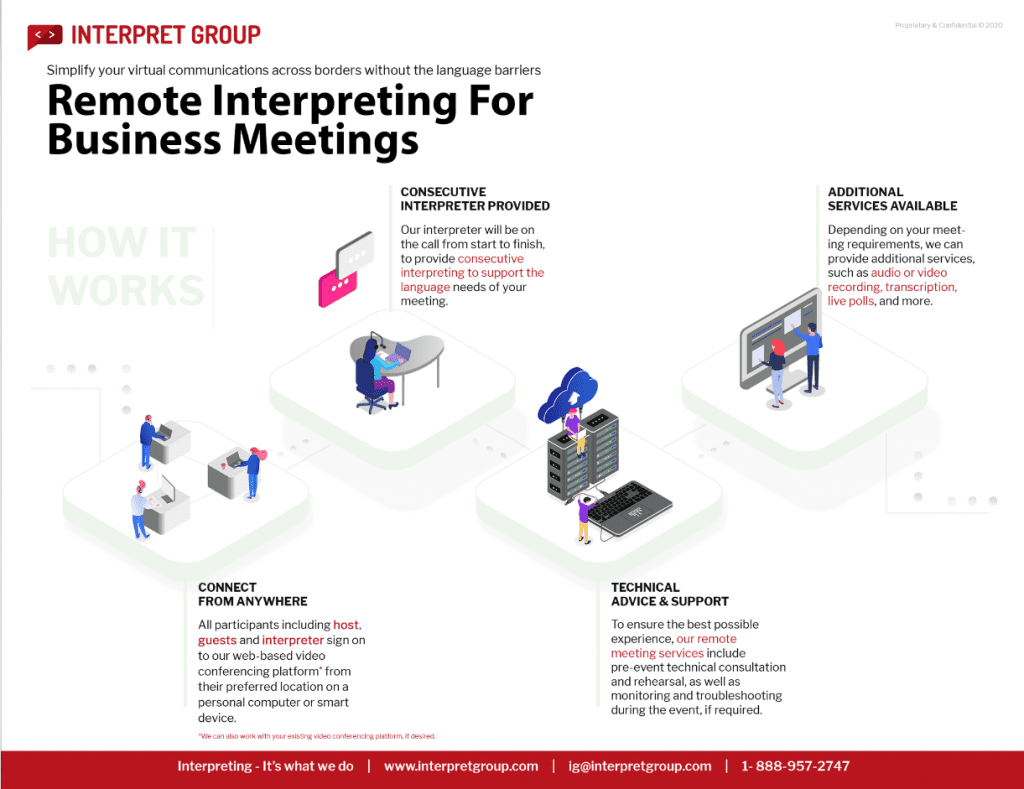 Don't forget to share this article!